Android ICS 4.0.4 for the Samsung Galaxy Note now seeding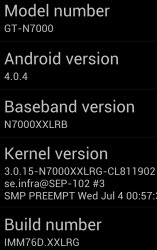 In addition to fixing a number of bugs and issues the 4.0.4 version adds a few cool new features such as signature unlock and Pop up play. There are also several changes to the UI and icons and a reported performance bump.
Currently the update is available in Austria, Belgium, France, Germany, Hungary, Italy, Spain and the United Kingdom. Other regions should join this list in the following days as well.