Nokia in Q2: Lumia sales up, company still in the red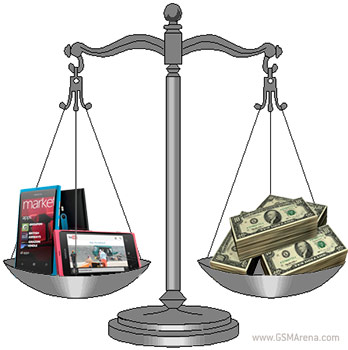 Nokia is still going through the tough transitional period as confirmed by its Q2 financial results. The report is a mix of good news and bad news - the good news is that Lumia sales are picking up, the bad news is that the Finnish company is still losing money.
Sales and shipping numbers for Nokia's smart devices declined both year on year and quarter on quarter. This is mainly due to reduced Symbian sales and the falling Average Selling Price (ASP) of the platform. On the other hand, the ASP on smart devices combined went up both QoQ and YoY.
Net sales of Nokia featurephones are down YoY, but mostly unchanged from the previous quarter even though the number of devices shipped went up. The sub-€50 models like the Nokia 100 and 101 were driving sales up, but the pricier higher-end models found it hard to compete with affordable smartphones.
The report mentions declining net sales across the world, except for North America, a market Nokia has been working hard to get back into. Net sales were up 45% there compared to last year's Q2, but the number of shipped units fell by 60%.
In an effort to reduce expenses, Nokia closed its R&D department in Ulm, Germany and Barnaby, Canada and is working towards closing off a factory in Salo, Finland. The R&D department there will continue to operate.
The bottom line is this - net sales from Devices & Services department of Nokia are down 26% YoY, shipments are down 5% and the operating loss in Q2 was €474 million. The company as a whole posted an operating loss of €826.