Samsung full report for Q2 is out, sales and profit increase
Just the handset division of Samsung accounted for $18 billion in sales, a 75% increase from the sales from Q2 last year. IT & Mobile communications (of which the handset division is a part of) reports $21.1 billion in sales and an operating profit of $3.7 billion - a massive 145% jump up year on year.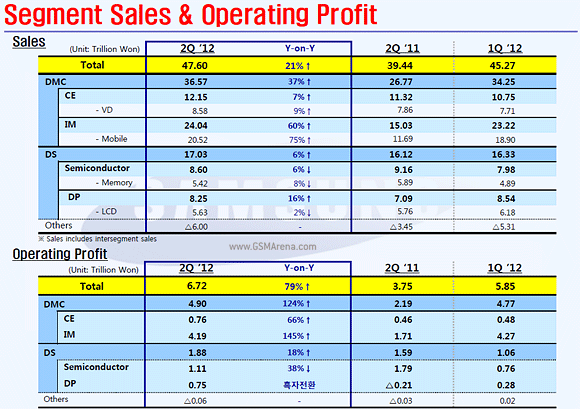 Demand for Samsung's smartphones increased QoQ by a "low single digit %", while feature phone sales cooled off. The newly launched Galaxy S III flagship and strong sales of the Galaxy Note phoneblet along with higher demand for other high-end Samsung smartphones are behind the increased profit. The Average Selling Price also went up.
Samsung, of course, makes a lot more than just phones. You can read their report for all the details, but here's a quick summary. Sales of LTE network equipment decreased quarter-on-quarter. TV sales increased a bit and now over 60% are LED TVs (up from mid 50%), 3D displays are also in demand. Mobile/server DRAM is selling better than desktop DRAM, NAND demand improved due to new mobile product launches.