Google had warned Samsung from copying Apple's designs
And the juicy details keep flowing in. Like we mentioned in our
previous article
about leaked iPhone prototype designs, the Apple vs. Samsung legal battle is resulting in a lot of never before seen information reaching the public through legal documents.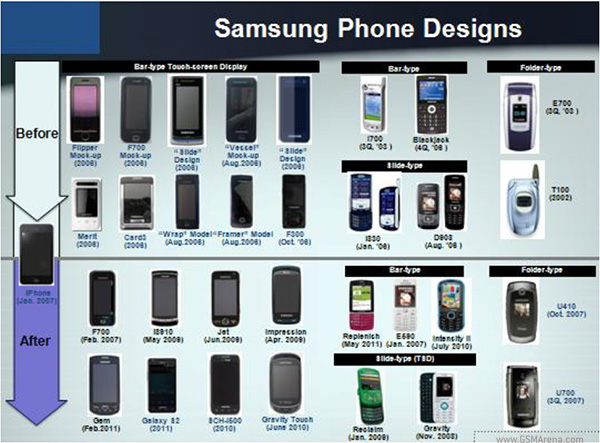 The latest bit of info comes regarding Samsung and how it was repeatedly warned against Apple's designs. One of the warnings came from Google themselves back in 2010, who noticed that Samsung's tablets 'P1' (
Galaxy Tab
) and 'P3' (
Galaxy Tab 10.1
) were "too similar" to the iPad and demanded "distinguishable design vis-à-vis the iPad for the P3." Google even asked Samsung to make the tablets noticeably different, starting from the front side.
Another interesting things is that Samsung's own Product Design Group also noted in 2011 that it is "regrettable" that the Galaxy S "looks similar" to the older iPhone models.
Also interesting is the fact that famous designers as part of a Samsung sponsored evaluation said that the
Galaxy S
"looked like it copied the
iPhone
too much" and that "innovation is needed." They felt that the design resembles the iPhone's design too closely so that the buyer would confuse between the two and that all you have to do is cover up the logo and there won't be any difference between them.
The Verge is also reporting that Samsung was so hell bent on beating Apple, they made it their official internal goal for 2012. Earlier documents also reveal that Samsung specifically requested to have features like the iOS' bounce effect while scrolling be implemented in their browser.
One of 2011's notes also say that Samsung diverted their attention away from Nokia and towards Apple as it was their main competitor and that Samsung's UX compared to Apple was like "that of Heaven and Earth".
One last and rather damning piece of evidence against Samsung is a document that says that in seven out of the thirty Best Buy stores that Samsung surveyed, the main reason for returning Samsung's tablets was that people bought them thinking they were iPads, thus proving Apple's original point for suing Samsung.
There is a lot more to find in the source links below. One thing's for sure, if you thought Samsung was innocent all this time, you could not have been more wrong.