The Lumia 900 receives a healthy price cut, now $49.99 on AT&T
If you thought that buying into a Lumia 900 isn't worth it without the WP8 side-salad you might want to read on. Nokia's WP flagman has received a healthy price cut and is now available for only $49.99 on a two-year deal with AT&T.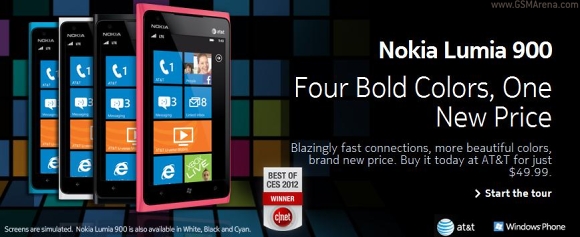 The updated price comes in time for the pink version of the Lumia 900 too.
The Lumia ran into some turmoil when Windows Phone 8 was unveiled because it was deemed unfit to support it. This spurred a logical backlash within Nokia's faithful fans because they felt cheated into buying a destitute product. But the Lumia 900 will receive some WP8 goodies via the
WP 7.8 update
. Add that to the competitive pricing and things are looking good.
The Lumia sports a gorgeous 4.3" ClearBlack AMOLED display of WVGA resolution, LTE (for the US), 8 MP snapper, a single-core 1.4 GHz Snapdragon processor and a beautiful polycarbonate body. If you like you could brush up on the Lumia 900 in our
full-fledged review
.
If you live in the US and are interested you can buy the phone
here
.
Source