comScore shows Android and iOS still gaining market share
The most recent comScore report, which reflects the 3 month period ending in May, has Android and Apple combining for over 80% of the market. Windows Phone also saw a small increase in market share, and now stands at 4%.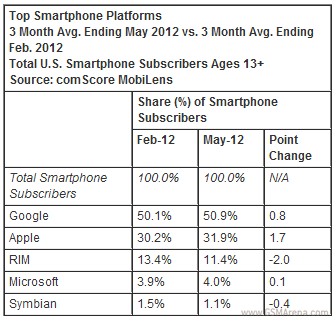 Some 234 million people in the US aged 13 and older use mobile devices. Samsung stand at the top of the hill with 25.7% of all phones used being theirs, while Apple saw the biggest increase among the major manufacturers - 1.5 percent points. The Cupertino-based company now controls 15% of the market.
RIM and Symbian continue to lose ground, as the Blackberry manufacturer saw a full 2% decline down to 11.4%, while Symbian now accounts for just over 1.1% of the US market.