LG Optimus 4X HD P880 review: Firing on all fours
Introduction
Last year LG was in pole position in the dual-core game with the Optimus 2X. It was the phone everyone looked up to, before there was a Galaxy S II and before there was an HTC Sensation.
There was obviously no rush this time although, to be fair, LG did announce their forthcoming flagship well on time. The Optimus 4X HD was among the headliners at the MWC in February, right next to the HTC One X. Back then, the Samsung Galaxy S3 was but a distant rumor.
In the end, LG were beaten to market by their closest rivals. A bit beyond fashionably late to the quad-core party, you can bet it doesn't want to miss out on the action. Its name is on the guest list and, if things like 4X and HD don't get them in the VIP lounge, we don't know what will.
There's more to the Optimus 4X HD though than multiple CPU cores and a 720p screen. LG may be late but not behind. They made sure that, at least specs-wise, their quad-core flagship matches the competition.
Key features
Quad-band GSM and quad-band 3G support
21 Mbps HSDPA and 5.76 Mbps HSUPA
4.7" 16M-color True HD-IPS capacitive touchscreen of 720p resolution (720 x 1280 pixels), ~312 ppi; Gorilla glass
Android OS v4.0.3 Ice Cream Sandwich with Optimus UI v3.0
1.5 GHz quad-core Cortex-A9 CPUs, low-power companion core, ULP GeForce 2 GPU, Nvidia Tegra 3 chipset
1 GB of RAM and 16 GB (12.26 GB user accessible) of storage
microSD card support (up to 32 GB)
8 MP autofocus camera with LED flash; face and smile detection , geotagging and image stabilization
1080p and 720p video recording @ 30fps with stereo sound
1.3 MP 720p-capable front-facing camera for video-chat
Wi-Fi a/b/g/n and DLNA, Wi-Fi Direct, hotspot
GPS with A-GPS
Stereo FM radio with RDS
Accelerometer, proximity sensor and auto-brightness sensor
Standard 3.5 mm audio jack
microUSB port (charging) and stereo Bluetooth v4.0
MHL TV-out (requires MHL-to-HDMI adapter)
DivX/XviD video support
High-capacity 2150 Li-Ion battery
Smart dialing, voice dialing
NFC support
LG SmartWorld app
Main disadvantages
No native video calls
Video recording has autofocus issues
Tegra 3 CPUs are built on 40nm process, while Exynos uses 32nm
Disappointing audio output
The Optimus 4X HD is Tegra-powered just like its dual-core predecessor. It's the Tegra 3 platform this time around, adding two more cores to do the heavy lifting and an extra one to discretely handle the low-key computing.
Unlike last year's Optimus 2X, which was behind the curve on Android 2.2 Froyo, the LG 4X HD has Android ICS 4.0.3 right out of the box and the custom Optimus launcher is doing its best to offer both visual and functional improvements.
LG has pulled all the stops out to design a phone that can hold up against the heaviest competition imaginable. The screen resolution and processing power are the minimum requirements for entry into the elite club. It's from then on that the contenders are trying to make a difference. It's now LG's turn to present their credentials to the discriminating user. Ready to be impressed once again?
Retail box
The LG Optimus 4X HD comes in an extra solid cardboard box with a slip-on lid with glossy black 4X imprints. Inside you'll find the handset, a standalone charger piece with removable USB cable, a white set of headphones and two NFC tags labeled Office and Car.
What's missing is a memory card, although the inbuilt storage of 16 GB is more than enough to get you started. Some extra pairs of different-size earbuds to use with the headset would've been nice but it's not a big deal. An MHL TV-out adapter is missing too - that's almost never part of the standard equipment of smartphones, at least on our side of the pond.
360-degree hardware spin
The LG Optimus 4X HD is a large handset but, after all, size has a lot to do with whether or not you're well received in the Android big league. With virtually the same screen diagonal and overall dimensions as the main competitors, the LG 4X HD is styled to stand out and we're about to see how space-efficient and comfortable to handle it is.
At 132.4 x 68.1 x 8.9 mm, the LG 4X HD goes strictly by the rulebook of the Flagship Club and is right on the money at 133 g.
Design and build quality
The Optimus 4X HD is almost entirely made of plastic, which is the logical choice considering the size of the phone and the number of antennas inside. Just like the HTC One X and the Samsung Galaxy S III, the LG 4X HD does well to fit a massive HD screen in an ultra-slim body and keeps the weight within perfectly reasonable limits.
It is in fact small touches and design choices that set the three Android flagships apart. The LG smartphone easily stands out with its assertive, angular styling. What LG call the prism-edged design couldn't have been more different than the subtly curved bodies of both the HTC One X and the Galaxy S III. The 4X HD has a distinctly more solid feel in the hand.
Although it weighs exactly the same as the Galaxy S III, the well-defined edges give an impression of almost tangible extra heft. The sides of the phone have a peculiar dual frame, which looks nice, but in a way compromises the secure grip.
Overall, the LG 4X HD is a strange mix of experiences. It makes the Samsung Galaxy S III, which is the biggest phone of the bunch, feel almost flimsy and slippery to hold. On the other hand, it doesn't even come close to the comfortable and secure feel of the polycarbonate unibody of the HTC One X.
The LG 4X HD flaunts a 4.7" Gorilla Glass-covered screen with a resolution of 1280 x 720 pixels. LG call it a True-HD display and it essentially uses the same technology as the second-generation IPS LCD of the HTC One X. The 720p resolution equates to around 312 pixels per inch and the images are impressively detailed and crisp. The display of the LG 4X HD is brighter than AMOLED and uses a RGB matrix with a full set of subpixels, as opposed to the PenTile panel in AMOLED.
The True-HD IPS display of the LG 4X HD is a standard-setting LCD unit. Images are pleasingly sharp and even small fonts are crisp and readable. It cannot really match the deep blacks of AMOLED and the resulting contrast, but it's doing quite well in its own division. The colors appear a little less saturated than on the HTC One X but don't look bad by any means.
The glass covering the display is very reflective and it seems the screen could've been a bit closer to the surface. The sunlight legibility is below (but not by far) AMOLED standards and that was hardly a surprise. The HTC One X, which uses very similar display technology, does a little better in terms of viewing angles and outdoor performance.
Here go the LG Optimus 4X HD results from our display tests. You can find more about the testing procedures
over here
.
Display test
50% brightness
100% brightness
Black, cd/m2
White, cd/m2
Contrast ratio
Black, cd/m2
White, cd/m2
Contrast ratio
LG Optimus 4X HD
0.34
369
1077
0.68
750
1102
HTC One X
0.15
200
1375
0.39
550
1410
Samsung I9300 Galaxy S III
0
174
∞
0
330
∞
LG Optimus 2X
0.23
228
982
0.35
347
1001
HTC One S
0
177
∞
0
386
∞
Samsung Galaxy Note
0
287
∞
0
429
∞
Sony Xperia S
-
-
-
0.48
495
1038
Contrast ratio
Nokia 808 PureView

4.698

Samsung I9300 Galaxy S III

3.419

Samsung Omnia W

3.301

Samsung Galaxy S

3.155

Nokia N9

3.069

Samsung Galaxy Note

2.970

HTC One S

2.901

Samsung Galaxy S II

2.832

Huawei Ascend P1

2.655

Apple iPhone 4S

2.269

HTC One X

2.158

Nokia N8

2.144

Apple iPhone 4

2.016

Sony Ericsson Xperia ray

1.955

Sony Xperia U

1.758

LG Optimus 4X HD

1.691

HTC One V

1.685

LG Optimus 3D

1.542

Nokia Asha 302

1.537

Nokia Lumia 610

1.432

Gigabyte GSmart G1355

1.361

LG Optimus L7

1.269

Meizu MX

1.221

Samsung Galaxy Pocket

1.180

Samsung Galaxy mini 2

1.114
Above the 4.7" screen is the earpiece, along with proximity and ambient light sensors. There's a 1.3 MP front-facing camera too, although the phone doesn't natively support video calls. Another thing missing is a notification LED - both the One X and the Galaxy S III have one.
We snapped a shot of the display under a microscope - here is how the RGB matrix of the 4X HD compares to the one on HTC's One X.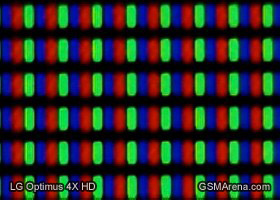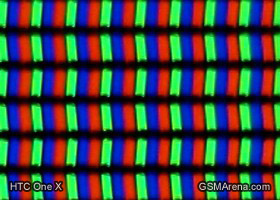 LG Optimus 4X HD vs One X under a microscope
Below the screen are the three capacitive controls - Back, Home and Menu - which usually stay out of the way until lit up by a tap on the screen. A dedicated setting lets you have the keys backlight always on. A bit of a surprise, the white backlight of the capacitive keys doesn't get lost against the background of our all-white 4X HD. Just the opposite, it looks quite cool, especially at night.
On the left side of the phone there's a volume rocker, which will be hard to spot, but otherwise comfortable to locate by touch and solid on press. The right side of the Optimus 4X HD has no controls.
A 3.5 mm headphones jack and a secondary microphone go with the power/lock button at the top side.
At the bottom, we find the centrally placed microUSB port, along with the main microphone in the corner. The microUSB port allows HD TV output with the right MHL adapter. You'll also notice a tiny slit in the back panel, which is the point of entry for your nail to pull the battery cover open.
Around back we see the 8 MP camera lens along with a single LED flash and a loudspeaker grille at the bottom. The back panel is the part of the phone's design we're least impressed with. The leather-like texture looks and feels cheap - and that has nothing to do with the quality of the plastic used. It just seems a bit tacky, and doesn't go too well with the glass-covered front. By comparison, the HTC One X feels special without trying too hard - which should be the right way to go about getting a premium feel.
With the four cores inside the LG Optimus 4X HD at full blast, the phone will occasionally heat up around the LG logo at the back but it doesn't look like a major issue that will adversely affect the phone's performance.
Undoing the back panel reveals the regular-sized SIM card slot, a microSD card slot, the NFC antenna (on the back panel itself) and a powerful 2150 mAh Li-Ion battery. Nominally, it's the biggest battery to be found in a quad-core phone, although the difference to the Galaxy S III's 2100 mAh unit is negligible.
What more impressive here is the new SiO+ battery technology, which has allowed LG to get up to 6% more power out of a regular-size battery pack.
The ample juice pack allowed the LG Optimus 4X to do pretty well in our dedicated battery life test. The smartphone scored a good overall score of 40h, which means that you'd need to be charging it every other night if you use it for an hour of telephony, an hour of video playback and an hour of web browsing per day.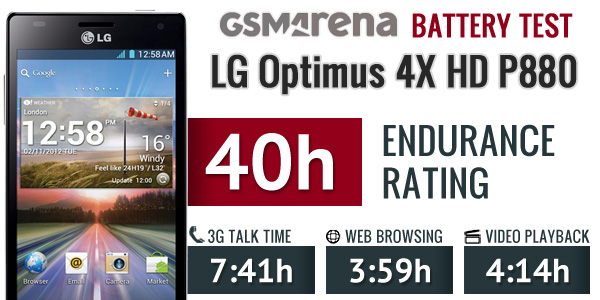 Our battery test results
Aesthetically, the LG Optimus 4X HD has almost nothing in common with its dual-core predecessor. The new trend towards huge screens and slim bodies is something we really love and we are glad LG is finally following suit.
The angular shape of the Optimus 4X HD earns it a few and does well to set the LG flagship apart from its main competitors. Granted the designers didn't have perfect success in mixing different elements and balancing different influences at the back, but we generally like how the Optimus 4X HD looks and feels.
Okay, it doesn't fit in the hand as well as the curved back of the Galaxy S III, but LG has still done good job with its handling, given the size of the smartphone. And you shouldn't forget the other aspects of a phone's design and build. Unlike the One X, the LG 4X HD has a removable battery (using a new advanced technology at that) and expandable memory. These will always be advantages in our book.
Now, let's move on to software where the real difference is to be made yet again.
Optimus UI 3.0 at the front
The LG Optimus 4X HD is powered by Android 4.0.3 ICS with the custom Optimus UI 3.0 on top. We saw this setup in the recently-reviewed Optimus L7, but it feels much better on the snappier hardware on the LG flagship. The Koreans have treated Ice Cream Sandwich with their highly customized style but things look subtler than usual, tidy and uncluttered.
We like the mostly bright color themes and the white system menus look very nice on the HD screen. Many aspects of the phone's behavior can be customized, you can go to as small detail as the capacitive key backlight and the transition between homescreen panes.
LG has thrown in some neat tweaks and enhancements and those are by no means limited to the visuals. The MediaPlex is a set of advanced video player options, while the system-wide QuickMemo integration allows phoneblet-like experience.
The Android 4.0 interface is littered with some extra little touches that really make using the UI an enjoyable experience, particularly if you've seen ICS on other devices - small tweaks that pop up here and there will surprise you with their usefulness. We'll be sure to point them out to you as we go along. Now, let's get started with a video demo of the flagship Optimus 4X HD in action.
LG has implemented a cool swipe lockscreen, which lets you see what's "underneath" as you unlock the phone. You can also place up to four shortcuts that will unlock the phone straight into an app.
You can change the lockscreen clock style as well as the four icons at the bottom with whichever app you choose. That's how it should be done - in HTC's Sense for example, the lockscreen shortcuts always repeat the homescreen shortcuts.
While we're at it, the shortcut bar at the bottom of the homescreen is one of the major changes in the Optimus UI 3.0. It can now fit up to 6 shortcuts and that's one more than what TouchWiz offers on the Samsung Galaxy S III. You don't have to use all available slots though - you can only keep the App Drawer shortcut if you want.
As usual, the shortcuts are always visible on any of the homescreen panes. With the exception of the app drawer shortcut, you can rearrange, delete or replace any of these with shortcuts of your choosing, even folders.
Adding stuff to the homescreen has been updated in this version of Android. A tap and hold on a blank area of a homescreen allows you to add various customizations to your phone. The tabs along the bottom let you select the appropriate app, widget or wallpaper, which you can add to the homescreen of your choice. Gridlines will appear when you hold and drag an app or widget, allowing you to easily place it on the homescreen. Ice Cream Sandwich also allows you to resize most widgets, if you want them to take up more or less space.
By default you get a seven homescreens to fill up with widgets and shortcuts, but you are free to delete any that you don't need to speed up navigation. . You can also set the default homescreen to any of the panes.
LG has also enabled a ton of other customization to the the homescreen looks and behavior. There's a dedicated setting for looped homescreen scrolling and the so-called screen effect changes the transition effect between homescreen panes. The good news is the lag we saw on the Optimus L7, when scrolling over from the last (or first) homescreen, is now gone.
The notification area contains one of LG's ICS customizations in the ability to rearrange the toggle buttons shown here and you can also add and remove toggles from the edit menu.
As usual, if you're playing something on the music player, quick controls will show up here. You can also drag notifications to the left or right to dismiss them.
The task manager on board is of the new ICS variety, which shows you all of the currently running apps, and lets you stop them by swiping them to the left or right. It is accessed by holding down on the hardware home button.
If you prefer the traditional Gingerbread task manager, that is also available as an optional download in the Application Manager in the app drawer. Keep in mind, however, that this version will only be accessible from the app's icon, while a long press of the home button will still open the ICS task manager.
The app drawer lists all your available apps and widgets, with a dedicated tab for user downloads. There is a button in the top right corner, which triggers edit mode and lets you to easily reorder and uninstall applications.
The contextual menu, accessed from the bottom right capacitive key, gives you the option of fitting more applications on one screen.
LG has done a good job of its custom skin for Android ICS. It's nicely styled (if a little too colorful) and feature-rich abd yet quite tasteful and unobtrusive. We're impressed with the general speed of the phone too. Everything runs smooth as silk and we have no complaints regarding the quality of use. For those who still need to put a number to it, our dedicated Synthetic Benchmarks follow.
Synthetic benchmarks: a Tegra 3 tie with the HTC One X
Benchmark Pi is a simple single-threaded benchmark, so we know what we can expect from it. The Optimus 4X HD falls behind the Krait-powered One X (AT&T) and One S, but comes close to its Cortex-A9 CPU siblings - the Galaxy S III and the One X (international).
Benchmark Pi
Lower is better
HTC One X (Snapdragon S4)

279

HTC One S

306

HTC One X (Tegra 3)

338

Samsung Galaxy S III

344

LG Optimus 4X

350

Samsung Galaxy Note 10.1

351

Samsung Galaxy Nexus

408

Samsung Galaxy S II

452

Sony Xperia S

536

HTC Sensation XE

583
Linpack offers multithreaded benchmarking, making it essential for testing quad-core beasts. The Optimus 4X HD does better than the Tegra 3-based One X, but once again falls behind the Krait-based One S and AT&T One X.
Linpack
Higher is better
HTC One S

210

HTC One X (Snapdragon S4)

196

Samsung Galaxy S III

177.1

LG Optimus 4X

141.5

HTC One X (Tegra 3)

126.1

Samsung Galaxy Note 10.1

90

Sony Xperia S

86.4

Samsung Galaxy S II

77.6

Samsung Galaxy Nexus

77.1

HTC Sensation XE

50.4
Quadrant is a composite benchmark (it tests CPU, GPU and I/O). The LG Optimus 4X HD scored the same as the HTC One X, but was outrun by the One S, AT&T's One X and the Galaxy S III, which topped this chart.
Quadrant
Higher is better
Samsung Galaxy S III

5365

HTC One X (Snapdragon S4)

5146

HTC One S

5047

HTC One X (Tegra 3)

4842

LG Optimus 4X

4814

Samsung Galaxy Note

3531

Sony Xperia S

3173

Samsung Galaxy S II

3053

Samsung Galaxy Nexus

2316
The Optimus 4X HD uses NVIDIA's ULP GeForce GPU. It has a 720p screen to fill with pixels, so we were curious to find out how it fares.
NenaMark 2 shows better performance compared to the Tegra 3-powered One X, but falls behind the Galaxy S III and the US version of the HTC One X.
NenaMark 2
Higher is better
HTC One S

60.5

Samsung Galaxy S III

58.8

LG Optimus 4X

52.3

Samsung Galaxy S II

51.6

HTC One X (Snapdragon S4)

49.1

HTC One X (Tegra 3)

47.5

Samsung Galaxy Note 10.1

43.6

Sony Xperia S

37.5

Samsung Galaxy Nexus

24

HTC Sensation XE

23
GLBenchmark is available on iOS devices too, so it can give us some idea of how the Optimus 4X HD compares to the PowerVR SGX 543 GPUs. We're using the Egypt test in offscreen 720p mode so that results are directly comparable even though each device has a different screen resolution.
GLBenchmark Egypt (offscreen 720p)
Higher is better
New Apple iPad

140

Samsung Galaxy S III

103

Apple iPad 2

90

Apple iPhone 4S

73

HTC One X (Tegra 3)

63

Samsung Galaxy S II

62

LG Optimus 4X

61

HTC One S

56

HTC One X (Snapdragon S4)

55.7
The GPU is obviously as good as the other Tegra 3 contender - the international One X and the best-selling Galaxy S II.
SunSpider is a JavaScript benchmark and as such isn't strongly affected by the number of CPU cores - it mostly reflects the raw performance of a single core and how optimized the JavaScript engine itself is.
SunSpider
Lower is better
Samsung Galaxy S III

1447

HTC One S

1708

New Apple iPad

1722

HTC One X (Tegra 3)

1757

HTC One X (Snapdragon S4)

1834

LG Optimus 4X

1845

Samsung Galaxy S II

1849

Samsung Galaxy Nexus

1863

Samsung Galaxy Note 10.1

1891

Apple iPhone 4S

2217

Sony Xperia S

2587

HTC Sensation XE

4404
BrowserMark adds HTML to the equation - behind the scenes JavaScript computing won't do much if the web page can't update fast and smooth. The Optimus 4X HD easily takes the second place in the chart, beaten only by the Galaxy S III.
BrowserMark
Higher is better
Samsung Galaxy S III

169811

LG Optimus 4X

134036

Samsung Galaxy Note 10.1

113256

Samsung Galaxy S II

111853

Samsung Galaxy Nexus

103591

New Apple iPad

103264

HTC One S

98435

HTC One X (Tegra 3)

96803

HTC One X (Snapdragon S4)

92232

Apple iPhone 4S

88725

Sony Xperia S

74990

HTC Sensation XE

72498