Samsung Galaxy mini 2 review: Little by little
Whenever a Galaxy S phone thinks "Boy, it feels good at the top", there's always someone down below to say "You're welcome". Samsung most certainly know who to thank. It was smartphones like the Galaxy Ace and the Galaxy mini that made Android so much more accessible and helped the Koreans get where they are.
This year brings the sequels to the two immensely popular smartphones and things look promising. The Samsung Galaxy mini 2 ups the resolution, adds a bit of extra oomph and improves on the looks and that's already a solid foundation for a worthy successor. Here's what else it gets right and what it doesn't:
Key Features
Quad-Band GSM and dual-band 3G support
7.2 Mbps HSDPA
3.27" 256K-color HVGA TFT touchscreen
ARMv6 800MHz processor, 512MB RAM
Android OS v2.3 (Gingerbread) with TouchWiz v3.0 UI
4GB internal storage, hot-swappable MicroSD slot
3.15 MP fixed-focus camera with geotagging
Wi-Fi 802.11 b/g/n, DLNA, Wi-Fi hotspot
NFC connectivity (in some markets)
GPS receiver with A-GPS
Stereo FM radio with RDS
3.5mm audio jack
Document editor
Accelerometer and proximity sensor
MicroUSB v2.0
Stereo Bluetooth 3.0
Swype text input
Main disadvantages
Poor display quality
Fixed-focus camera, no flash
No secondary video-call camera
Video recording maxes out at VGA @ 25fps
Sub-par ARMv6 CPU limits performance and app selection
With the smartphone market still far from becoming a zero sum game, devices like the mini 2 are supposed to convert as many feature-phone and Symbian users as possible. Once they are in the right camp, it will be much easier to sell them a Galaxy S IV or even a Note 2.
A solid plan indeed, but there's a catch. While the Samsung Galaxy mini 2 price tag will probably help, there are potential turn-offs that need to be addressed. The mini 2 doesn't have to be perfect or have an upmarket feel. A solid smartphone experience is a must though and we're interested to see if the mini 2 delivers it.
Let's get going then. The unboxing and hardware inspection start right after the break.
Retail package spells basic
We didn't really expect Bluetooth headsets, leather pouches or anything along these lines, inside the Samsung Galaxy mini 2's box. Considering the relatively ample inbuilt storage, we can live without a microSD card too, even though it costs manufacturers cents to include. However, we could've really used a wired handsfree, which isn't all that expensive either.
All you will find inside the compact box is a microUSB charger and a microUSB cable. We do appreciate the charger being a single piece, instead of having to use it with the data cable, but still the feeling remains that Samsung could have done a little better.
Samsung Galaxy mini 2 S6500 360-degree spin
Standing at 109.4 x 58.6 x 11.6 mm, the Samsung Galaxy mini 2 is a really compact device by today's standards. It's also pleasingly thin for the class and, since it weighs just over 105g, we doubt it that anyone will mind carrying it around.
Design and build quality
Despite being low in the pecking order, the Samsung Galaxy mini 2 offers pretty good build quality. The styling of the back looks like a nice touch by Samsung and the grippy plastic makes sure you won't be dropping the smartphone too often.
Our main grudge is the front panel, where things are a bit boring. We've seen Samsung use the same design over and over and we really wished we were treated to something fresh here. After all, they did bother to make it look a bit like the Galaxy Nexus at the back. It shouldn't have been too to hard do something about the front.
Perhaps a different color that matches the battery cover might have helped the Galaxy mini 2 stand out in the entry-level droid crowd. Then again, maybe it's just a case of us being too picky. As we said, the mini 2 is targeted at newcomers, who are unlikely to be bored with the design.
The front panel of the Samsung Galaxy mini 2 is dominated by the 3.27" HVGA display. The bezels are a bit wider than we are used to, but there's no way around it on a compact phone like the mini 2. You see, bezels have to be at least a few millimeters wide for a touchscreen device to work properly and that makes them appear much bigger on handsets with smaller screens.
There are two ways to look at the image quality of the screen. On one hand, it's a notable improvement over the original, mostly due to the quadruple resolution. On the other hand, contrast is nothing to write home about, while in the same time viewing angles are mediocre and sunlight legibility is disastrous. And then, HVGA is not such a rarity anymore in this price range.
As usual, the truth is somewhere in between, the mini 2 screen being par for course - no deal-breakers, but no pleasant surprises either.
Contrast ratio
Below the Samsung Galaxy mini 2 display, we find the usual three-button combo. There's the traditional Home key in the middle, with capacitive Menu and Back buttons either side. All three controls have the usual functionality on a long press.
All you get above the screen is the earpiece, so those of you addicted to video-calling might need to take their business elsewhere. An ambient light sensor is also missing, so you'll have to adjust the brightness of your screen manually. There's no front-facing camera or a proximity sensor either.
The left side of the Samsung Galaxy mini 2 S6500 hosts the volume rocker and the microSD card slot. At the other end we have only the power key, but a dedicated camera key wouldn't have made much sense on a smartphone with a fixed focus camera anyway.
The top of the Galaxy mini 2 is where the 3.5mm audio jack is located, while the microUSB port can be found at the bottom, alongside the microphone. Both the audio jack and the microUSB port are unprotected.
Turning the Galaxy mini 2 over we find the 3 megapixel fixed-focus camera lens and the loudspeaker grille. The specs of the camera alone suggest that it wasn't the designer's top priority, but we'll be examining it in more detail later on.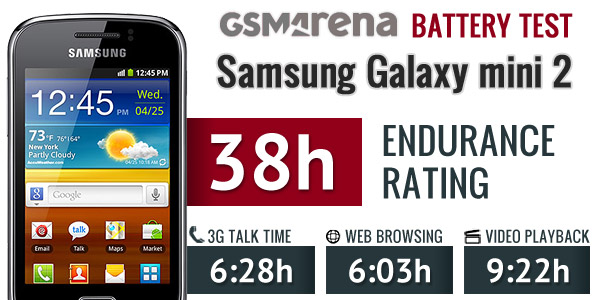 The general handling of the Samsung Galaxy mini 2 S6500 is pretty good. It's a compact set that's easy to operate singlehandedly and one that has decent grip. We like the asymmetric styling reminiscent of the Galaxy Nexus but we wish they used something fresher up front.
Gingerbread with TouchWiz topping
Synthetic benchmarks
Linpack
NenaMark 2
SunSpider
BrowserMark
Social phonebook
Calling and dialing
| | | | | |
| --- | --- | --- | --- | --- |
| Speakerphone test | Voice, dB | Pink noise/ Music, dB | Ringing phone, dB | Overal score |
| Nokia Lumia 800 | 60.9 | 59.0 | 61.7 | Below Average |
| Apple iPhone 4 | 65.9 | 66.5 | 67.3 | Below Average |
| Samsung I9000 Galaxy S | 66.6 | 65.9 | 66.6 | Below Average |
| Samsung S8600 Wave 3 | 68.0 | 65.8 | 69.7 | Average |
| Samsung Galaxy W I8150 | 69.6 | 66.6 | 67.0 | Average |
| Samsung S5570 Galaxy Mini | 68.0 | 65.9 | 70.6 | Average |
| Samsung S6500 Galaxy mini 2 | 69.7 | 71.5 | 66.6 | Average |
| HTC Titan | 75.8 | 66.2 | 82.7 | Very Good |
| HTC Desire | 76.6 | 75.7 | 84.6 | Excellent |
Messaging and email